On Saturday I completed the St. George Ironman 70.3, my fourth Half Ironman and my second time on this course. I'll walk through historical context, my training plan, race day, and four lessons I learned.
Context
Two years ago I completed the St. George 70.3. We had just moved to town and I was excited to race just a few miles from our house. My training was strong, but my taper couldn't have gone worse.
Three weeks before that event I got sick and didn't sleep well as I evaluated what that would mean for me and my family. One week before the race I smashed my middle toe while on vacation. X-rays showed it wasn't broken, but the pain was so severe I couldn't run on it. I could barely even walk. A few days of recovery and a lot of ibuprofen got me to the start line.
I finished the 1.2 mile swim, 56 mile bike and 13.1 mile run in 6 hours and 35 minutes. It was a respectable time for all that happened leading up to the race, but I knew I could have done better.
In April 2022, I did the Oceanside 70.3. I was commuting to Salt Lake City during the week and the time away from family gave me more time to train. I felt confident heading into the race. The course was easier and my stretch goal was six hours. I ended up finishing in 5:55, a full 40 minutes faster than St. George the year prior. When I crossed the finish line, I was flooded with emotion. I burst into tears. A combination of exhaustion and joy overwhelmed me. I had accomplished something I didn't think was possible.
Training
Training for this year's St. George 70.3 started last year. After Oceanside, I took a few weeks off before training for a full Ironman I did in September. The Ironman was one of the worst days of my life (I wrote about it here). Three weeks later I redeemed myself with an Olympic distance triathlon where I won my age group.
Riding that high, I started training for the St. George 70.3 in mid November. I turned 39 in December and knew that age would start slowing me down. I needed to get stronger. While triathlon is a test of endurance, it's usually my muscles that give out at the end of a race, not my fitness/cardio. I committed to lifting weights at least once a week.
A colder-than-usual Utah winter kept me indoors more than I liked but I stuck to my training plan. In late January, I ran the Virgin River Half Marathon, an early test of my running abilities. I set a personal record, beating my best from 10 years earlier.
My training wavered through February and early March as work and family responsibilities mounted, but the last 6 weeks leading up to the event were on point. During that time I averaged 20 miles of running, 80 miles of biking, and 2,500 yards of swimming per week. More importantly, I did several 50+ mile rides to make sure my legs could handle a difficult bike course.
With five days left before the race, I hurt my foot playing pickleball. I worried it might derail my day. I have a long history of small injuries just before big races. I wondered how much of what I went through was physical rather than mental. The injury forced me to take the final week slow, which may have been a good thing.
Race Day
The forecast on race morning showed 48 degrees at the start of the swim. That was colder than ideal given that the water temp of Sand Hollow reservoir was in the low 60s. But the high for the day was 75 degrees, an unseasonably cool temperature which would help later in the race.
Our gear needed to be in the transition area the day prior, so the morning of the 70.3 was a breeze. My mom dropped off me and my brother and, after a quick change into our wetsuits, we were ready to get going. There was a rolling start with race officials letting three participants begin the swim every few seconds. We lined up near the front and started together. That way, in the rare event we were near each other at the end of the run, there'd be no doubt as to who was faster.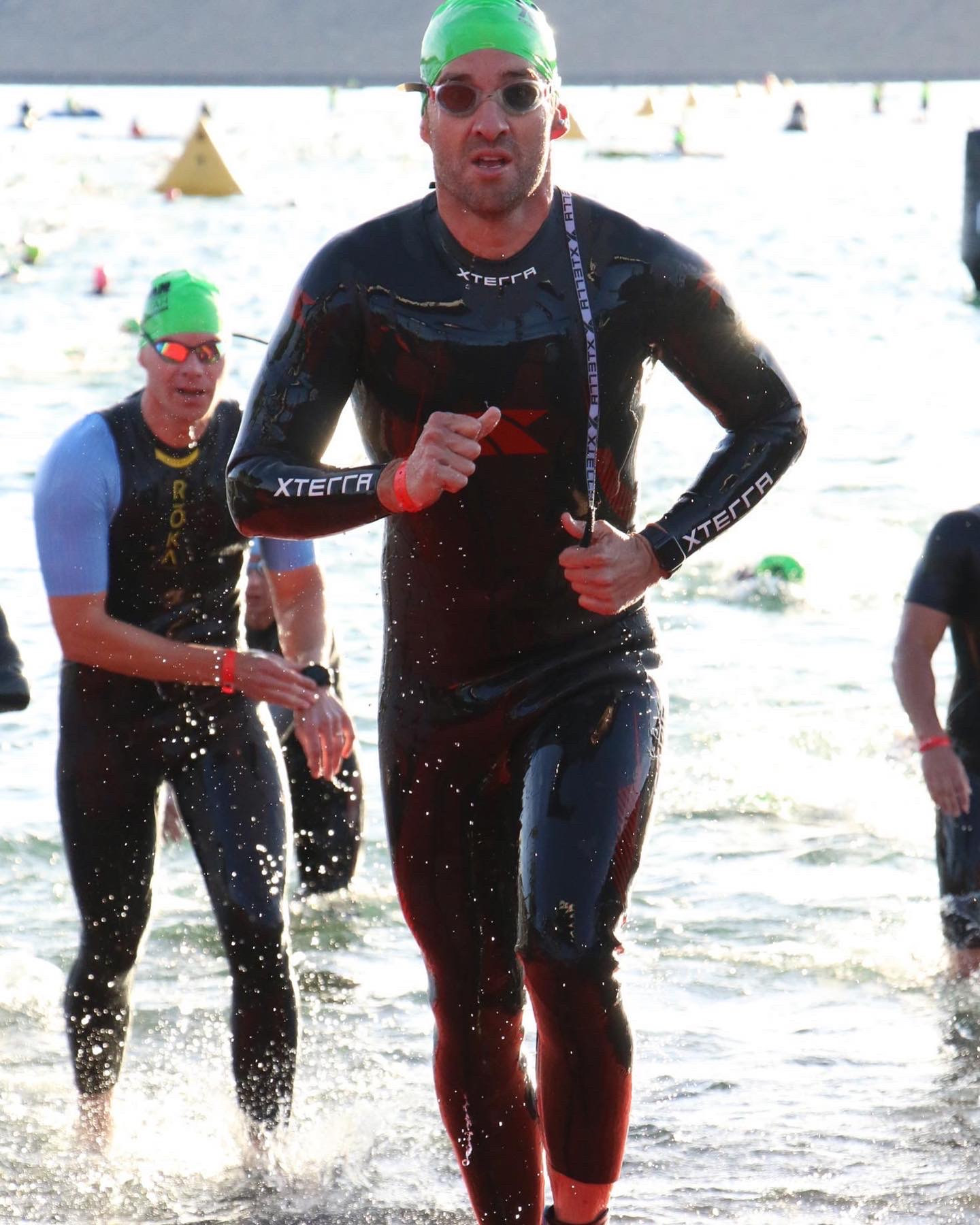 I felt strong during the swim and kept a steady pace, knowing I still had 5+ hours to go. With 25 yards left, I noticed my brother off to my right. I hadn't seen him since the start and I gave a final push to beat him by two seconds.
I transitioned from swim to bike as fast as possible as transitions have been a liability in past triathlons. My toes were numb as I started the bike portion but my core was warm. The first few miles exiting Sand Hollow were beautiful and the smooth red dirt on both sides of the road made it feel like I was cycling on Mars.
At mile 10 of the bike my brother surged past me. He's always been stronger on the bike and I was tempted to chase him, but I knew better. I'd set a goal to average 175 watts and keep my heart rate below 165. Don't worry about him, I thought. Just race your race.
The next 30+ miles felt great. There were a few small hills that tested my legs but I was greeted by a nice downhill after each. At mile 40 things got real. I started feeling fatigued. Knowing I still had to climb up Snow Canyon only made matters worse. The stunning five-mile climb through Snow Canyon required over 1,000 feet of climbing with grades ranging from 4% to 9%. I wanted to get through it as fast as possible but I couldn't thrash my legs. I still had a 13.1 mile run ahead of me.
After reaching the top of the canyon, I enjoyed the seven mile descent back into town. This gave me an opportunity to cool off, catch my breath, and mentally prepare for the run. I transitioned quickly, grabbing my running shoes and hat. I'm a stronger runner than my brother and I wanted to catch him, but I knew I had to pace myself.
I committed to running at 10-minute pace for the first mile. I was confident I could finish the half marathon at a faster clip, but I didn't want to push too hard early on. I finished mile 1 at 9:35 pace and felt great.
The first three miles of the run were gradually uphill while the next three were downhill. The overall course was ~6.5 miles and I had to run two loops. I was averaging 9:13 pace coming out of the first loop, which was faster than expected. But I still hadn't seen my brother during the run and I was motivated to catch him.
The second loop began and I headed back uphill. My legs were burning and I wanted to stop. I'd been exercising for almost five hours. My calves and quads were screaming. But I knew that if I kept it all together I still had a shot at beating my Oceanside PR.
At mile 9, I finished the uphill portion and welcomed the three mile descent back into town. My stomach didn't feel great and I was balancing hydration and caloric needs with not overwhelming my stomach. It was a tricky balance.
With one mile to go I could taste the finish line. I still hadn't seen my brother and I wondered whether I passed him while he was in a porta-potty. My body was hurting but I pushed hard to maintain my run pace. My pace for the second 6.5-mile loop had been slower, but I kept the pain in check. I hadn't blown up yet. In an effort to motivate myself, I thought of all the hard things I'd done. I told myself this was nothing compared to that.
As I hit the last quarter mile, I felt energized by the countless supporters cheering me on. My upper calf started cramping and I shortened my stride to avoid the pain. I gave it one final push the last 100 yards and felt overwhelmed with emotion as I crossed the finish line.
My time flashed on the screen—5:47:04. I was shocked. I hadn't just beaten my time from two years ago, I had crushed it by 48 minutes. But more surprisingly, I bested my time from Oceanside—an easier course—by a full 8 minutes.
A kind volunteer let me rest on her shoulder as I grabbed my finisher medal and hat. I found my brother and was amazed to hear that he'd beaten me by more than three minutes. Both of us had demolished our expectations and while I had hoped to beat him, I was proud that we'd both performed so well.
Lessons
There are four lessons that stand out from the St. George 70.3.
1) Focus on what you control.
In the weeks leading up to the race, I looked at the weather forecast at least three times a day. I was worried the morning might be too cold. I was worried the afternoon would be too hot. Some days the forecast showed a chance of rain, while others showed no rain. But I couldn't control any of that. All I could control was my preparation, my mindset, and how much effort I gave. I had to focus on that and ignore the rest.
2) Do the little things right.
In triathlon, you can save time by becoming a stronger swimmer, biker, and runner. But you can also get faster by shortening your time transitioning from swim to bike and from bike to run. Becoming faster in the three triathlon disciplines requires a ton of work. But you don't need to improve your fitness to improve your transitions.
Normally I take my time in transitions, making sure I'm fully dry and my socks fit just right. But for this race, I knew every minute mattered. I planned in advance how I'd transition faster. Doing so helped me save seven minutes. Often it's the little things done incredibly well that make all the difference.
3) We all need cheerleaders.
The St. George volunteers and supporters were incredible. People lined the streets throughout the race, holding signs and yelling words of encouragement such as, "you got this!" or "keep it up!" The energy was electric and it motivated me to keep pushing. We all do hard things in life and there are times when we want to give up. We need cheerleaders to champion us and help us keep fighting.
4) We don't know our limits.
I trained hard for last year's Oceanside 70.3 and gave it everything I had on race day. I finished with a time I was proud of, one I didn't think I could beat again. I knew the St. George course would be more difficult and I didn't train as much in the months leading up to it. I told myself that finishing five minutes slower than Oceanside was a win. I thought that was a stretch goal.
Going 5:47 and beating my Oceanside time by eight minutes wasn't something I thought possible. Our limits are almost always self imposed. We don't truly know our limits until we test them.
Overall, the St. George 70.3 was a great experience and one I'm grateful I could share with my brother. I don't have any races scheduled and am enjoying some rest, but I'm sure I'll find one in the future.
There's always another race.